YOUR #1 CHEVY DEALER IN HOUSTON
Welcome to Classic Elite Chevrolet, your number one destination for all things Chevrolet in Houston. As the leading Chevrolet dealer in the area, we take pride in offering a wide selection of top-quality vehicles and exceptional customer service. Whether you're in the market for a sleek sedan, a spacious SUV, or a powerful truck, our knowledgeable team is here to help you find the perfect Chevy to fit your needs and lifestyle. With our commitment to excellence and our dedication to providing a hassle-free car buying experience, it's no wonder why so many customers choose Classic Elite Chevy. Visit our showroom today and let us assist you in finding your dream Chevy vehicle.
STAY CONNECTED
ENJOY AN ELITE BUYING EXPERIENCE AT THE PREMIER HOUSTON CHEVY DEALER
At Classic ELITE Chevrolet HWY 6, we treat our customers like the ELITE buyers they are. From family SUVs like the Chevrolet Tahoe and Suburban to lifted Silverados and more, you can find the vehicle you need at Classic ELITE, the first choice for Houston Chevy dealers by thousands of customers a year.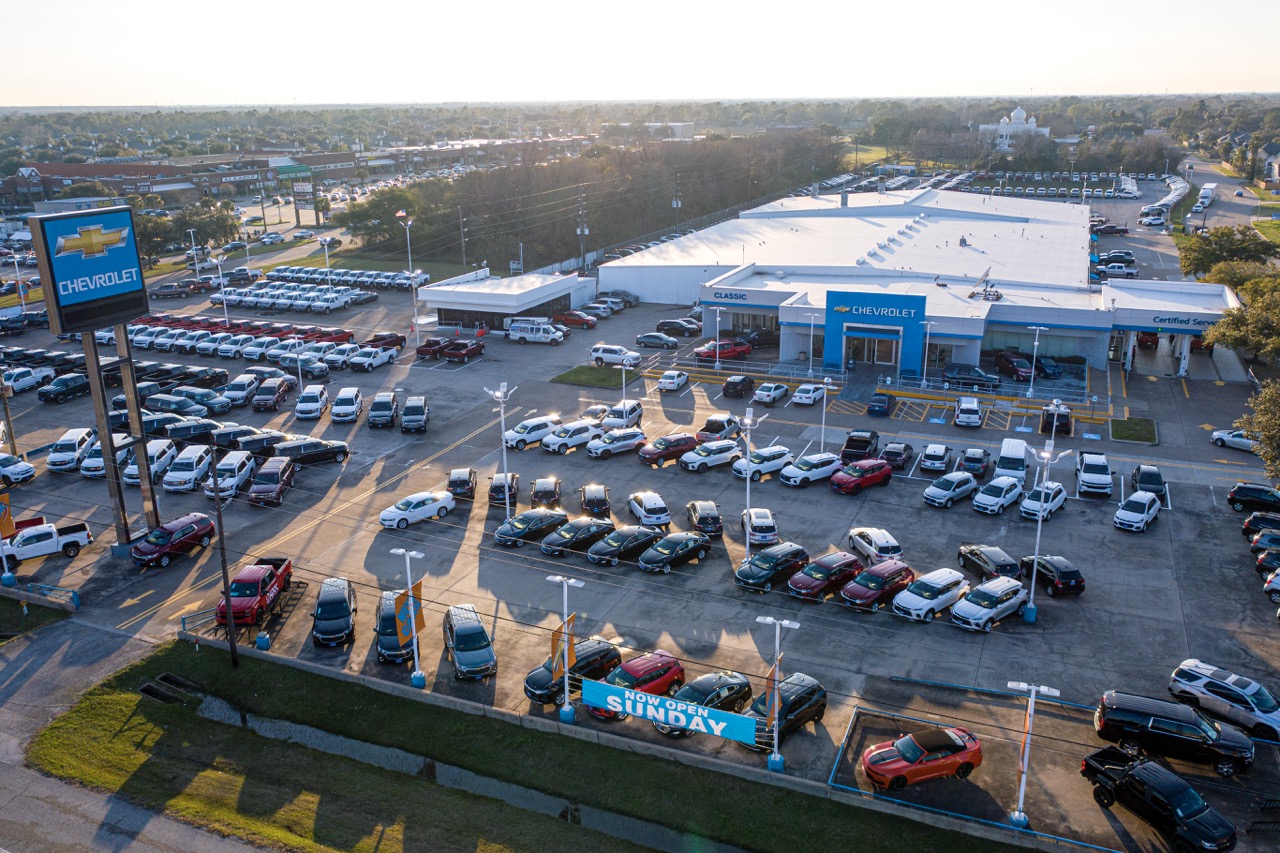 A MASSIVE INVENTORY OF NEW & USED CARS, TRUCKS, AND SUVs OFF HWY 6
Whether you're in the market for a sleek sedan, a versatile SUV, or a powerful truck, we have a wide selection to choose from. Our dedicated team is here to help you find the perfect vehicle that meets your needs and fits your budget.
GET A TEXAS TRUCK FROM A TEXAS DEALER
At our dealership, we take pride in offering a wide selection of 2024 Chevrolet Silverado trucks. As a Texas dealer, we understand the importance of having a reliable and powerful vehicle to tackle the unique demands of the Lone Star State. Whether you're in need of a truck for work or for your everyday adventures, our inventory has got you covered. From the rugged exterior to the comfortable interior, the Chevrolet Silverado is designed to exceed your expectations. So why wait? Shop our inventory today and find the perfect Texas truck for you.
RIDE HIGH ON THOSE HOUSTON HIGHWAYS WITH AN SUV
Get ready to experience the ultimate driving adventure in Houston with the 2024 Suburban and Tahoe at Classic Elite Chevy. These vehicles are designed to conquer the highways with their unbeatable performance and style. Whether you're navigating the bustling city streets or cruising along the open roads, the Suburban and Tahoe will elevate your driving experience to new heights. With their spacious interiors, advanced technology, and impressive capabilities, these vehicles are perfect for both daily commutes and weekend getaways. So why settle for anything less when you can ride high in the 2024 Suburban and Tahoe? Visit Classic Elite Chevy today and get ready to embark on your next journey with confidence and style.
VISIT US TODAY
Come experience the Classic ELITE Chevrolet difference in person. Our showroom is conveniently located in off the highway in Houston, TX and is open six days a week to serve you. We are Whether you're looking to test drive your favorite Chevrolet model, explore our finance options, or simply chat with our friendly staff, we're ready to welcome you to the Classic ELITE Chevrolet family.
Discover the Incredible Inventory at Classic Chevrolet HWY 6
Welcome to Classic Chevrolet HWY 6, where you can explore our extensive inventory of vehicles that are sure to meet your needs. Whether you're in the market for a sleek sedan, a reliable SUV, or a powerful truck, we have a wide selection of classic Chevrolet vehicles for you to choose from. With our experienced team of professionals ready to assist you, you can trust that your car-buying experience will be enjoyable and stress-free. Visit Classic Chevrolet HWY 6 today and discover the perfect vehicle for you.